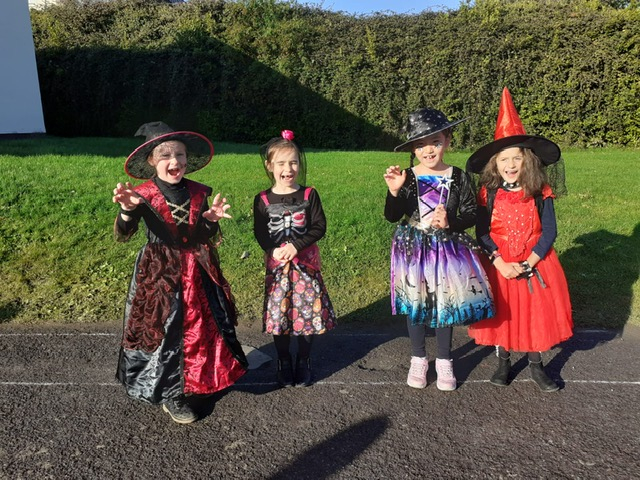 It's Mask Time - Hallowe'en Masks!!
It has been a very different first term this year - the big challenge to reopen schools and to keep them open, while also safe, has taken a huge effort from all involved in the school community. But so far, it is good to report that it has gone very well and there is a huge debt of thanks due to everyone who has played their part and done what is necessary.
Of course, there has been an impact on school life and particularly, on some of the more "fun" parts of being in school. But, as much as possible, staff have been trying to carry on with as "normal" a year as possible.....and thankfully, this showed at it's best so far on Friday October 23rd, when Hallowe'en was celebrated just as well as any other year.
The school grounds were all spookily decorated, with a fright around every corner or behind every bush! The windows, walls and corridors dripped with witches, ghosts and goblins more than ever before. Many staff were unrecognisable in their costumes, make-up and wigs. Then there were the children - no effort spared as they turned out magnificently.....witches, monsters, vampires, (corpse) princesses, super heroes and creatures of all sizes and sorts - and with the weather staying kind, they could parade around the grounds and yards and safely show off their outfits to each other. Have a look at the photo gallery below to see for yourself. (If on the site home page, click the image above first then scroll down to the gallery or just click "HERE").
Well done everyone - for keeping the Hallowe'en "spirits" alive and well in Holy Family!! It might be different this year, but hopefully everyone will have a lovely midterm break and lots of fun on October 31st itself. Stay safe and see you all in November.